The Takoma Theatre: Its History, Redevelopment, and Future
July 13 @ 12:00 pm

-

1:15 pm
Join the DC Preservation League on Tuesday, July 13th at 12:00pm EDT for a virtual program about the historic Takoma Theatre!
The Takoma Theatre has a fascinating history as one of the early movie theaters in the region. Over the decades it served many purposes until eventually falling into disrepair. Rock Creek Property Group acquired the Takoma Theatre in 2015 and worked with Cunningham | Quill architects to creatively figure out a way to restore the property in a way that highlighted the history and beauty of the original building, complied with local zoning requirements, and would be commercially viable. This presentation will share the history of the Theatre, the thought behind the architectural design of its restoration, and the processes involved in developing this unique property and provide an update on how it is being used today.
Speakers
Jenna Jacobson, Director of Development, Rock Creek Property Group
Ms. Jacobson serves as Director of Development at Rock Creek Property Group. In her role, she directs a broad range of development responsibilities including strategic planning, design, entitlements, legal, community relations, project management, and marketing across the company's broad range of assets. She is involved in all phases of development from acquisition to sales and leasing.
Prior to joining Rock Creek, Ms. Jacobson served as the Development Manager and General Counsel for S2 Development, a DC-based multifamily developer. At S2, Ms. Jacobson's responsibilities included managing development projects, providing legal counsel, new deal sourcing, and marketing and press relations. Before working at S2, Ms. Jacobson was an attorney at the global law firm, Hogan Lovells. Prior to law school, she served as a management consultant at PricewaterhouseCoopers. Ms. Jacobson received her Juris Doctor from Georgetown University Law Center and her Bachelor's Degree from Georgetown University. She is admitted to the District of Columbia and Maryland Bar and is as a licensed real estate salesperson.
Maria Casarella, Architect, Cunningham | Quill Architects
Maria Casarella, AIA has been with Cunningham | Quill Architects since 2004, and brings over twenty years of award-winning residential, institutional and historic preservation experience to the firm. She takes a context-based and site-specific approach to architecture, promoting innovative design solutions that take into account the unique sensibilities of her clients and their projects.
Ms. Casarella is active in the Washington, DC community, and has been a Board member of the Cleveland Park Historical Society. Ms. Casarella was first appointed by Mayor Adrian Fenty to the District of Columbia Historic Preservation Review Board in 2008 and served as an appointed architect member until September 2015. She has served as the chair of the Sustainability Committee of the HPRB and led the entire effort to revise the DC Historic Preservation Guidelines to address sustainable building practices. She is a member of the DC Historical Society Advisory Committee and is an invited jury critic for Maryland, Catholic University's and Virginia Tech's Architectural programs. She is currently a volunteer mentor for the DCAIA Washington Architectural Foundation's "Design Like a Girl" program.
About Rock Creek Property Group and Cunningham | Quill Architects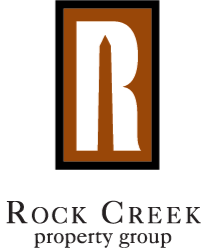 Rock Creek Property Group is a real estate investment and development company based in Washington, DC. Since its formation in 2000, the company has acquired and developed a diverse array of properties from apartments, condominiums, retail centers and commercial office buildings, to unique historic structures, and boutique mixed-use projects. You can learn more at www.rockcreekpg.com

Cunningham | Quill Architects, located at Canal Square in historic Georgetown, provides complete professional services in the fields of architecture, community planning, and urban design. Their diverse portfolio celebrates context and reflects a fresh and insightful approach to design and master planning that has led to numerous-award winning projects. Visit their website to learn more: